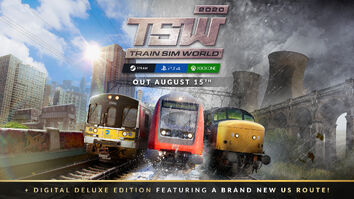 Train Sim World is Dovetail Games' latest train simulator, announced on the 1st September 2016 and released on the 16th March 2017. In August 2020 it will be superseded by Train Sim World 2.
The original version, entitled 'CSX Heavy Haul' featured one route, Sand Patch Grade and was only available on PC. In 2018 this version was succeeded by 'Train Sim World' which featured Sand Patch Grade (PC Only), Great Western Express, Rapid Transit and NEC: New York. In August 2019 the latest version, 'Train Sim World 2020' was released, containing Sand Patch Grade [US] (PC Only), Great Western Express [UK], Northern Trans-Pennine [UK], Long Island Rail Road [US], Main-Spessart Bahn [GER] and Peninsula Corridor [US] (Digital Deluxe Edition).
Standard Edition
Deluxe Edition
Collector's Edition
PS4 US PS4 EU XBOX Amazon US PS4 Amazon US XBOX Amazon UK PS4 Amazon UK XBOX
See Routes List
Four routes are available as part of the Train Sim World base game; Great Western Express, Long Island Rail Road, Northern Trans-Pennine and Main-Spessart Bahn. Sand Patch Grade, previously featured in the CSX Heavy Haul edition, is available only in the PC version. Peninsula Corridor is part of the Digital Deluxe Edition.All other routes are add-ons
See also Train Sim World Editions
The CSX Heavy Haul Beta was the first edition of Train Sim World. It ran from the 8th December 2016 to the 21st December and contained two sections of Sand patch Grade; Sand Patch summit and Cumberland yard. The only locomotive featured was the SD40-2. It came with 3 tutorials, 2 services and 2 scenarios.
The full version of CSX Heavy Haul was released on the 16th March 2017. It contains the entire Sand Patch Grade route along with two extra locomotives, the GP38-2 & AC4400CW. Also included are 8 scenarios, 7 tutorials, a full service mode and 6 different freight cars.
Between the release of CSX Heavy Haul and Train Sim World, various bundles were released which allowed players to combine Sand Patch Grade with an additional route. This was available for all routes released up to and including NEC: New York
Founders Edition was released on the 9th March 2018 for Xbox One and featured the Great Western Express route. Like CSX Heavy Haul Edition, it was replaced by the new 'Train Sim World'.
The latest version, simply titled 'Train Sim World' features GWE, RT & NEC: NY for PC, Xbox One and PS4 as well as Sand Patch Grade for PC. The new edition is priced at £24.99 with a Digital Deluxe edition also containing the GP40-2 costing £29.99.
Main Page: Train Sim World 2020
The next version, titled 'Train Sim World 2020' features Great Western Express, Long Island Rail Road, Northern Trans-Pennine and Main-Spessart Bahn, as well as Sand Patch Grade for PC. The Digital Deluxe Edition will also contain the Peninsula Corridor route.The Collector's Edition features all the packs included in the Digital Deluxe Editon plus Ruhr Sieg Nord.
Training - Training mode involves tutorials about how to operate the locomotives and how to carry out specific tasks.
Scenarios - These involve completing tasks which are often different from that of normal railway operation, though some scenarios are more prototypical. Generally 5 of these come with a route, and 3 with a locomotive DLC.
Timetable Mode - This is a 24-hour timetable of services, any of which can be driven by the player. These are based off the real life timetables along the route.
Journey Mode - A combination of training, scenarios and timetable mode offering a more structured way of playing the game. The Journey Mode for a route is divided into chapters, each being about a different type of driving. An example of this is the Main-Spessart Bahn journey mode which is divided into 5 chapters: Passenger Loco Driver, Passenger Cab Car Driver, Freight Driver, Banker and Driver.
Community content is available under
CC-BY-SA
unless otherwise noted.