Sand Patch Grade is the first route in Train Sim World. The route was first released as a beta in December 2016 and became part of the CSX Heavy Haul Edition released in March 2017. The AC4400CW, SD40-2, GP38-2 come with the route in CSX Transportation livery.
Introduction
Edit
Sand Patch Grade, a vital link in the sprawling 21,000-mile rail system of CSX, crosses the Allegheny Mountains, climbing from Cumberland, Maryland (at an elevation of 627 feet above sea level) to the line's summit at Sand Patch, Pennsylvania (elevation, 2,258 feet), then beginning a westward descent to Rockwood, Pennsylvania (1,837 feet). To climb over the rugged Alleghenies, Sand Patch Grade's tough east slope ascent culminates with a 1.94 percent gradient near Manila, then a plunge through 4,475-foot-long Sand Patch tunnel.
It was the famed Baltimore & Ohio – America's first common-carrier railroad – that fathered Sand Patch, opening the line in the early 1870s as a key route west to Pittsburgh and, eventually, to America's railroad capital of Chicago.
Today, as CSX's Keystone Subdivision, Sand Patch Grade serves as a busy conveyor of diverse freight tonnage, including intermodal traffic, coal, coke, minerals, grain, steel, oil, autos and auto parts, and other manufactured products. Locally-originated coal tonnage is loaded at Rockwood on the adjoining S&C Sub and drawn from the Salisbury Branch. And Sand Patch Grade is also host to Amtrak's daily Washington (D.C.)-Chicago Capitol Limited.
Cumberland, Maryland, at the eastern foot of Sand Patch Grade, is home to a major CSX classification yard and engine terminal facilities.
CSX Heavy Haul Beta
Edit
Two sections of the sand patch grade route were featured in the beta; Cumberland Yard & Sand Patch Summit.
Cumberland Yard
Edit
The Cumberland Yard section focuses around the yard at Cumberland and came with one shunting scenario (Clear Cut).
Sand Patch Summit
Edit
The second section was Sand Patch Summit. This section focuses around the main line at the summit and the steep slopes around it. This section also came with one scenario (Sand Patch Summit).
The route covers the Keystone Subdivision from Cumberland, Maryland to Rockwood, Pennsylvania. The route was originally built by the Baltimore & Ohio railroad as their main route through the Allegheny Mountains. In 1972, the route became part of the Chessie System before becoming part of CSX in 1987. Currently, the Amtrak train 'Capitol Limited' runs along the route stopping only at Cumberland. The route includes the freight yard and operational turntable at Cumberland along with Sand Patch Summit, the Rockwood Mine and Salisbury Branch. The route has a maximum gradient of 1.94%.
Locations
Edit
Rolling Stock
Edit
AC4400CW - Built between 1993 and 2004, CSX Transportation owns more than 600 of the 4400 horsepower locomotives. Available in both yn2 and yn3b liveries in the CSX Heavy Haul Edition of Train Sim World.
GP38-2 - Part of the Dash 2 range of EMD locomotives, the GP38-2 was introduced in 1972, 2222 of these 2000 horsepower locomotives were produced, of which CSX gained many from it's predecessor railroads.
SD40-2 - Nearly 4000 of these Dash 2 series locomotives were produced between 1972 and 1986, many of which CSX gained from it's predecessor railroads. Available as part of the CSX Heavy Haul edition of Train Sim World, the SD40-2 comes in both yn2 and yn3b liveries.
Freight Cars
Edit
In the beta version, 3 tutorials were included.
In the full version of the route, 9 tutorials are included.
Scenarios
Edit
In the beta version, 2 scenarios were included.
In the full version of the route, there are 8 scenarios.
Timetable Mode
Edit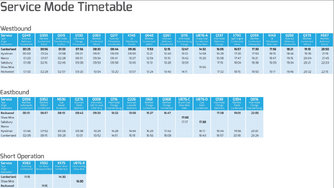 In the beta version, 2 services were included.
Eastbound Coal Train
Westbound Autotrack Train
In the full version of the game, there is a 24 hour timetable. The full timetable is in the image below. Also, players can select certain locations along the route to spawn their character and railfan or take over a service.
See the full service timetable here: Service Timetable: Sand Patch Grade
Westbound
Edit
Loco
GP40-2

SD40-2

GP38-2

GP40-2

SD40-2

AC4400CW
AC4400CW
GP38-2

GP40-2

SD40-2

AC4400CW
GP40-2

SD40-2

GP38-2

GP40-2

SD40-2

GP40-2

SD40-2

AC4400CW
GP40-2
AC4400CW
AC4400CW
GP40-2

SD40-2

GP40-2

SD40-2

GP40-2

SD40-2

GP40-2

SD40-2

GP40-2

SD40-2

Service
Q249
Q355
Q015
Q130
Q353
Q217
K145
Q640
Q261
Q115
U876-A
Q137
X790
Q359
K143
Q250
Q375
K557
Type

Autorack

Manifest

Intermodal
Intermodal

Manifest

Autorack
Oil
Manifest
Autorack
Intermodal
Empty Coal
Intermodal
Light Engine
Manifest
Oil
Autorack
Manifest
Manifest
Cumberland
00:25
00:56
01:33
07:56
08:33
08:44
09:36
11:53
12:15
12:47
14:32
16:05
16:57
17:30
17:56
18:21
19:10
20:50
Hyndman
00:50
01:24
01:58
08:21
09:01
09:09
09:59
12:21
12:40
13:12
14:58
16:29
17:20
17:53
18:19
18:46
19:35
21:19
Mance
01:20
01:57
02:28
08:51
09:34
09:41
10:27
12:54
13:10
13:42
15:26
16:58
17:47
18:21
18:47
19:16
20:04
21:45
Salisbury
01:38
02:16
02:45
09:08
09:53
09:58
10:45
13:13
13:28
13:59
17:19
18:04
18:38
19:05
19:34
20:21
22:03
Shaw Mine
15:56
Rockwood
01:50
02:28
02:57
09:20
10:04
10:20
10:57
13:24
13:40
14:11
17:32
18:15
18:50
19:17
19:46
20:32
22:15
Eastbound
Edit
Loco
GP38-2

GP40-2

SD40-2

GP38-2

GP40-2

SD40-2

AC4400CW
AC4400CW
AC4400CW
AC4400CW
GP40-2

SD40-2

GP38-2

GP40-2

SD40-2

GP40-2

SD40-2

GP40-2

SD40-2

GP40-2

SD40-2

AC4400CW
GP40-2

SD40-2

AC4400CW
Service
Q358
Q352
N536
Q276
Q008

Q116

Q226

I368

Q368
U876-C
U876-D
Q138
Q394
Q016
Type

Manifest

Manifest

Coal
Autorack

Intermodal

Intermodal

Autorack

Manifest
Manifest
Branch Coal
Coal
Intermodal
Manifest
Intermodal
Rockwood
00:51
06:57
08:10
08:42
09:33
13:32
13:58
15:27
16:47
17:38
19:01
22:05
Shaw Mine
17:00
Salisbury
17:17
17:30
Mance
Hyndman
01:46
07:52
09:06
09:38
10:29
14:28
14:54
16:29
17:42
18:17
18:34
19:56
23:01
Cumberland
02:09
08:15
09:29
10:01
10:52
14:51
15:19
16:56
18:08
18:43
18:57
20:18
23:24
Short Operation
Edit
Loco
GP38-2

GP40-2

SD40-2

GP38-2

GP40-2

SD40-2

GP38-2

GP40-2

SD40-2

GP40-2

SD40-2

Service
X528
X592
X575
U876-B
Type
Switching
Car Move
Power Move
Coal Loading
Cumberland
11:15
14:30
Shaw Mine
16:00
Rockwood
11:15
Becomes
Journey Mode
Edit
There are 4 chapters included with the Sand Patch Grade route:
Signalling
Edit
For the signalling used in Sand Patch Grade, see Signalling (Sand Patch Grade).
Route Diagram
Edit
Route Table
Edit
| Location | Image | Miles |
| --- | --- | --- |
| Cumberland Terminal | | 272.7 |
| Hyndman | | 286.1 |
| Sand Patch Tunnel | | 304.0 |
| Meyersdale | | 309.3 |
| Salisbury Junction | | 310.7 |
| Rockwood | | 321.1 |
Achievements
Edit
Centurion: Travelled 100 miles in any locomotive
Switcher: Changed a track switch
Trailblazer: Travelled 1 mile on foot
Rookie: Completed the introduction
Mega Train: Travelled 1000 miles in any locomotive
Unstoppable: Travelled 10000 miles in any locomotive
Pilgrimage: Travelled 100 miles on foot
Exodus: Travelled 1000 miles on foot
Making Connections: Coupled to your first wagon
Miner Achievement: Loaded a coal car
Qualified Engineer: Complete all tutorials on Sand Patch Grade
Railfan: Took a screenshot
Going the distance: Complete a full service
If you build it...: Build a consist of 100 cars
Hinge Breaker: Use 1000 doors
Ventiltor: Use 1000 windows
Carbon Overload: Loaded 1000000 tons of coal
Switch it up: Changed 500 track switches
Casey Jones
Powerhaul Prep: Coupled to 1000 cars
Connoisseur: Collected all collectables on a route
Workaholic: Completed 100 full services on any route
Gas Guzzler: Refuel 100 times
Mission Possible:Completed all services on a timetable in Sand Patch Grade
Super Sand Patch Grade: Completed all scenarios on Sand Patch Grade
Wheelhouse Master: Rotated the turntable 360 degrees without stoppin
Sand Patch Grade will be the only route for Train Sim World which will not be released on console. Dovetail Games said that Sand Patch Grade would not be featured in the console versions as the route was 'too resource intensive'. Due to changes in the production of content, all other routes are less resource intensive and so will be released on consoles eventually.
Community content is available under
CC-BY-SA
unless otherwise noted.