Ruhr Sieg Nord is a German route for Train Sim World, featuring the Ruhr Sieg railway between Hagen and Finnentrop, a distance of 61 kilometres. The route features two locomotives, the DB BR 185 for freight services and the DB BR 143 for passenger services.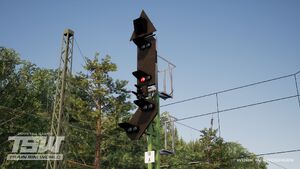 The first hint shows a German signal comprising of an entrance signal, a speed limit signal and a signal showing the next aspect. This hint confirmed that the route would be German and due to the type of signal, it couldn't be a loco add-on for
Rapid Transit
, the previous German route.
The route covers the Ruhr Sieg Railway from Hagen HBF to Finnentrop, a primarily freight route, however passenger services do also run. There is a major railfreight yard at Hagen. Along the route there are various freight yards, the largest of which is located at Hagen. Due to the winding nature of the route, speed limits are quite low on many sections, with the maximum speed being 120 km/h.
Locomotives
Edit
DB BR 143 - Built by the East German railway in the 1980s with a maximum speed of 120 km/h, these operate passenger services in conjunction with Doppelstockwagen.
DB BR 185 - Part of the Bombardier TRAXX family, these locomotives operate freight services along the route.
Rolling Stock
Edit
Training
Edit
Scenarios
Edit
Timetable Mode
Edit
The route includes a 24-hour timetable featuring both freight and passenger services. The DB BR 185, limited to freight, has 33 services. The DB BR 143, capable of both freight and passenger has 67 services and the Doppelstockwagen has 42 passenger services.
The freight services include full-length runs of the route and shorter services with drop-off and pick-ups along the route. Passenger services comprise of the RE 16 and RB 91 services running between Hagen and Finnentrop along with 'Der Iserlohner', a service operated using a DB BR 143 with just the Doppelstockwagen cab car running between Hagen and Iserlohn-Letmathe.
See the timetable here: Service Timetable - Ruhr-Sieg Nord
Route Diagram
Edit
Achievements
Edit
BR 143 Ruhr Sieg Express: Ruhr Sieg Express
BR 185 Fast Freight: Reach 85 km/h in the BR 185.2
BR 143 Controlled Cruise: Reach 100 km/h in the BR 143
BR 185 The Freight Experience: Operate the BR 185.2 for 185 km
BR 143 Tap Changer Pro: Operate the BR 143 for 143 km
RSN Knowing your TRAXX: Complete the BR 185 Introduction Tutorial
RSN Learning the Classics: Complete the BR 143 Introduction Tutorial
RSN A day on the DB: Complete 50 Ruhr Sieg Nord services
RSN Refurbishment Crew: Collect all collectibles on Ruhr Sieg Nord
RSN Valley Veteran: Complete all scenarios on Ruhr Sieg Nord
Community content is available under
CC-BY-SA
unless otherwise noted.