The Rhein-Ruhr Osten route is a German route for Train Sim World. It features the 42-kilometre route between Hagen HBF and Wuppertal-Steinbeck, featuring both the mainline and S-Bahn route. The MRCE BR 185.5 and DB BR 422 are both featured with this route.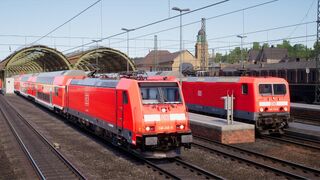 The first hint showed Hagen HBF, featured in the Ruhr Sieg Nord route with a DB BR 143, DB BR 146 in the main picture. Both of these locos were already featured in Train Sim World. To the far left of the image, a new loco could be barely seen. It was unknown what type of loco this is but the best guess was DB BR 422 from the way it looks in the picture. Another clue to this was if you take the number after the 143/146 on both trains they added to 422(246+176).
The route runs from Hagen HBF to Wuppertal-Steinbeck, including both the mainline used by freight services and the S-Bahn route via Gevelsberg. Together these lines have a total route length of 42 kilometres. The route is mostly double track though there are some single track sections.
DB BR 422 - The main passenger EMU on the route. Operated by the Rhein-Ruhr S-Bahn, part of Deutsche Bahn these EMUs are used on local commuter services along the route, capable of speeds up to 140 km/h.
MRCE BR 185.5 - The main freight locomotive on the route. It is operated by MRCE, the second German operator to feature in Train Sim World. This locomotive can haul various types of freight at up to 140 km/h.
Service Timetable: Rhein-Ruhr Osten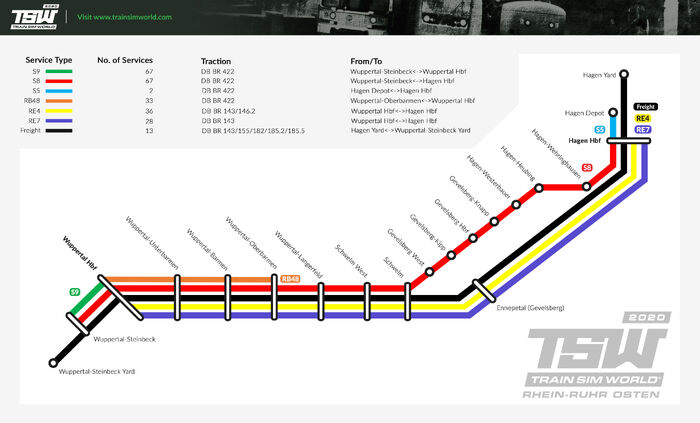 Main Line (Hagen - Wuppertal)
[
edit
|
edit source
]
S-Bahn Line (Hagen - Schwelm via Gevelsberg)
[
edit
|
edit source
]
Community content is available under
CC-BY-SA
unless otherwise noted.