The Peninsula Corridor route covers Caltrain's Peninsula Corridor between San Francisco and San Jose, a distance of 47 miles. The rolling stock included are the Caltrain F40PH-2CAT, Gallery Carriages and the Union Pacific GP38-2.
It is included in the Train Sim World 2020 Digital Deluxe Edition and as a seperate purchase.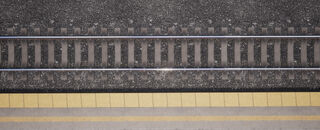 The first hint showed the edge of a platform, showing that this route would include passenger operations. Based off of the style of the platform edge and the achievements, it was speculated that the route may be the Peninsula Corridor from San Francisco to San Jose.
The route covers the Peninsula Corridor route between San Francisco 4th and King Street and San Jose Diridon, a distance of 47 miles. The route is operated by Caltrain, which operates passenger services along the route. Union Pacific also provides freight services to several locations along the route.
Locomotives
Edit
F40PH-2CAT - The principle passenger locomotive on the route. 15 of these locomotives are operated by Caltrain and travel in the southbound direction towards San Jose.
Gallery Cab Car - The Gallery Cab Car is a Non-Powered Control Unit which operates with the F40PH-2CAT, used as the driving cab for trains in the northbound direction towards San Francisco.
GP38-2 - The GP38-2 in Union Pacific is the freight locomotive used on the route. One of the most common types of locomotives in the United States, the GP38-2 operates a variety of freight services along the route.
Wagons and Coaching Stock
Edit
Training
Edit
Scenarios
Edit
Timetable Mode
Edit
156 services operate over a 24 hour timetable on the Peninsula Corridor. The timetable can be accessed here.
Journey Mode
Edit
Route Diagram
Edit
Route Table
Edit
This route adds the option of purchasing two extra packs with the route: the first being MP36PH-3C. It contains a new locomotive, the MP36PH-3C which can be used to substitute for select services in service mode but adds no extra services.It brings its own tutorial, scenarios, and achievements. The pack also includes the Bombardier Bi-Level Carriages and Cab Car. The second pack being MP15DC. It contains a new locomotive, the MP15DC.
Achievements
Edit
SFJ: The Fog Has Lifted - Complete all Tutorials
SFJ: California Completionist - Complete all Scenarios
SFJ: Discovery Bay - Collect all Collectables
SFJ: The Golden Gate - Reach Route Level 20
SFJ: Let's go to San Francisco - Complete 1 service on Peninsula Corridor
SFJ: The Big One - Complete 100 Services
SFJ: Purr-fect Performance - Complete the F40PH-2CAT Introduction tutorial
SFJ: Move Any Mountain - Complete scenario 'Rocky Road'
F40PH: Run Cat Run - Complete 40 passenger boarding tasks with the F40PH-2CAT
F40PH: Four One Five - Operate the F40PH-2CAT for 400 miles
Community content is available under
CC-BY-SA
unless otherwise noted.