Northern Trans-Pennine is the third UK route for Train Sim World, covering the 43 mile line from Manchester Victoria to Leeds via Huddersfield set during 1983. The three locomotives included with the route are the BR Class 45, Class 47 and a 2-car Class 101, all in British Rail blue livery. This Route is also included in the TSW 2020 bundle, released on the 15th August 2019.
The route covers the TransPennine route from Manchester Victoria to Leeds via Huddersfield. The route is set in 1983 when British Rail operated the line and before the introduction of AWS on to the route. The route passes through the Pennines, a mountain range in Northern England. At the summit of the route is Standedge tunnel, which is over 3 miles long.
Locomotives
Edit
BR Class 45 - Known as 'Peaks', these locomotives operated trans-Pennine passenger services
BR Class 47 - These locos operated both passenger and freight trains across the entire British Rail network
BR Class 101 - These Diesel Multiple Units operated local passenger services across the entire British Rail network
Coaching Stock
Edit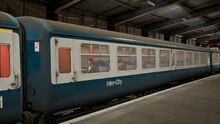 Training
Edit
Scenarios
Edit
Timetable
Edit
127 services operate over a 24 hour timetable on the Northern Trans-Pennine Route. The timetable can be accessed here. There BR Heavy Freight Pack also adds additional services.
Journeys
Edit
Chapter 1 - Locomotive Driver - Class 47 and Class 45 locomotives form the mainstay of passenger transport on the line at the moment, get to grips with them and start learning the line by taking on duties.
Chapter 2 - DMU Driver - It's time to take to the controls of the Class 101 DMU, learn to master the manual gearing system and peform stopping passenger service duties along the line.
Route Diagram
Edit
This route adds the option of purchasing an extra pack with the route: the BR Heavy Freight Pack. It contains two new locomotives, the BR Class 08 and the BR Class 40. Two new wagons are included as well to add freight scenarios and services into the Pennines. They are the TEA Tanker Wagon and the 2-axle Box Van. They bring their own tutorials, scenarios, service mode and achievements.
Achievements
Edit
Class 47: Maxed Out: Reach a speed of 75 mph in the Class 47
Class 45: Hit the Peak: Operate the Class 45 for 450 miles
Class 101: Drive this way: Operate the Class 101 for 1001 miles
Class 45: Revv'd Up: Complete the Diesel Locomotives Introduction Tutorial
Class 101: Mechanical Master: Complete the Class 101 Introduction Tutorial
Class 101: With or Without you: Complete 101 passenger boarding tasks
NTP: Every Train you take: Complete 50 Northern Trans-Pennine services
NTP: Trans-Pennine Traveller: Complete all scenarios on Northern Trans-Pennine
NTP: The Magic Number: Reach Route Level 20 on Northern Trans-Pennine
Community content is available under
CC-BY-SA
unless otherwise noted.