The Long Island Rail Road route is the third US route for Train Sim World, featuring the Long Island Rail Road from New York Penn, Atlantic Terminal and Long Island City to Hicksville via Jamaica as well as branch lines to Hempstead and Belmont Park. There are two locomotives featured in the route, the M7. This Route is also included in the TSW 2020 update which was released on the 15th August 2019.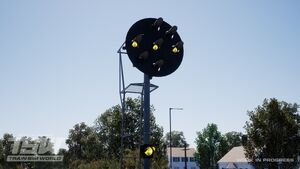 The first hint showed an eastern United States PRR signal. There was speculation of it being either a CSX, Norfolk Southern or Long Island Railroad route.

The route includes many sections of the Long Island Rail Road, these are:
The Main Line from Long Island City and New York Penn to Hicksville via Jamaica
Atlantic Branch from Jamaica to Atlantic Terminal
Hempstead Branch from Floral Park to Hempstead
Belmont Park Branch from Queens Village to Belmont Park
Locomotives
Edit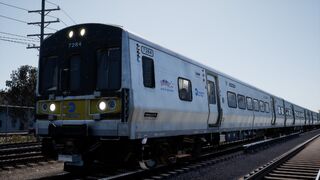 The route comes with one locomotive, the M7, operated by the Long Island Rail Road. These are sets of 2 carriage EMUs which are often coupled together in sets of up to 12 carriages long to operate services on the electrified sections of the LIRR.
Training
Edit
M7 Introduction - Learn the basics of the M7 Electric Multiple Unit including starting, stopping, and passenger boarding operations.
Scenarios
Edit
The route comes with five scenarios, all featuring the M7:
Timetable
Edit
The route includes a 24-hour timetable, featuring 181 services for the M7. The timetable can be found here: Service Timetable
Journey Mode
Edit
There are 2 chapters included with the Long Island Rail Road route:
Edit
Chapter 1 - Learning the Line - Start developing your route knowledge, gain experience on a variety of tasks and learn to drive the M7 EMU.
Chapter 2 - Certified Engineer - Now that you've mastered the M7 and learned the route, it's time to put your expertise to practice and join the other engineers moving commuters around New York!
Challenges
Long Island Short Haul - Drive 100 Miles/160km
Long Island M7 Learner - Complete a Tutorial
Long Island Engineer - Complete 10 Services
Long Island M7 Experience - Gain 5 Levels on the M7
Reward - Long Island Rail Road Diorama
Challenges
Long Island M7 Master - Gain 10 levels on the M7
Long Island Long Haul - Drive 250 Miles/400km
Long Island Finisher - Complete 5 scenarios
Long Island Master - Gain 10 Level on the Route
Reward - Long Island Rail Road Scenery Tile (Car Meet)
Route Diagram
Edit
Main Line
Edit
Italics indicate along a short branch (No distances given)
Atlantic Branch
Edit
Hempstead Branch
Edit
This route adds the option of purchasing an extra pack with the route: the M3. It contains a new EMU using the existing 3rd Rail. It brings it's own tutorials, scenarios, service mode and achievements.
Achievements
Edit
LIRR: Branching Out: Complete 7 Long Island Railroad services (PS4 Only)
LIRR Along for the Ride: Complete 70 Passenger Boarding Tasks with the M7
M7 Seven Up: Reach Loco Level 10 for the M7
LIRR Making Headway: Reach Route Level 10 on Long Island Railroad
LIRR Accessed All Areas: Complete all Scenarios on Long Island Railroad
M7 Junior Operator: Complete the M7 Introduction Tutorial
LIRR Discovery Island: Collect all collectables on Long Island Railroad
LIRR The King of Queens: Complete 70 Long Island Railroad services
M7 The Cannonball: Reach a speed of 70 mph in the M7
Community content is available under
CC-BY-SA
unless otherwise noted.