The GP38-2 is an American locomotive featured in Train Sim World's Sand Patch Grade and NEC: New York routes in CSX Transportation livery along with the Peninsula Corridor route where it is in Union Pacific livery. A Canadian National version is included in the CN Oakville Subdivision route.
The Electro-Motive "Geep" first appeared on the North American railroad scene in 1949, in the form of the classic GP7. Over the following decades, more than 20 different variations of iconic "Geeps" were produced by Electro-Motive, and among the most successful and versatile of this landmark line of locomotives has been the GP38-2.
Produced between 1972 and 1986, the 16-cylinder, 2,000-horsepower, four-axle (B-B) GP38-2 garnered 2,213 sales to more than 60 original buyers. Like the SD40-2, the GP38-2 was ending production at the same time. Today's CSX was being formed, but nonetheless, CSX became a major operator of the type by inheriting the GP38-2 fleets of four predecessor roads. The venerable and versatile GP38-2 carries on today as a key locomotive in CSX's modern-day locomotive fleet and, in fact, is having its life extended via the railroad's rebuilding programs.
Across today's U. S. railroad scene, where the norm for mainline freight locomotives is 4,000+ horsepower, A.C. traction, and six axles, the venerable four-axle, 2,000-horsepower GP38-2 (the youngest of which are now 30 years old, the oldest more than four decades old) most often can be found faithfully serving in secondary roles – handling locals or work trains, and switching yards and lineside industries. Those are roles that require versatility and agility – and the GP38-2 fulfills each masterfully. But not to be forgotten, too, is the Geep's capability, when given the opportunity, to take to the "high iron."
Impressions of the GP38-2 by a veteran CSX engineer and without surprise heard him compliment the diesel for its quick loading and acceleration (a trait shared by most normally aspirated 16-cylinder, two-cycle EMD 645- and 567-series powered diesels), is able dynamic brakes, and, for a four-axle unit at least, it's comfortable to ride. But this man's engine service dated back to CSX predecessor Louisville & Nashville and to the time when the GP38-2s were new. With a spark in his voice, he recalled how a quartet of GP38-2s, then often used in priority piggyback service on the L&N, could "run just as fast as anyone wanted, or dared." Such was the versatility of EMD's line of Geeps and the appeal that made them a favorite of management and road crews alike.
Electro-Motive's GP38-2 made its debut in 1972, the "Dash 2" successor to the EMD GP38 which has been introduced in 1966 and had sold moderately well but not exceptionally (GP38 production, including variants, ran to 733 units). Like all models in EMD's "Dash 2" line, the new GP38-2 featured solid-state modular electrical equipment and more rugged engine components that promised, and delivered, improvements in reliability, but otherwise, the diesel was similar to its predecessor. The similarity between the GP38 and GP38-2 ended, however, when it came to sales volume: During its highly successful 15-year production run, the GP38-2 would rack up 2,213 sales – three times that of its predecessor – and garner 59 original customers.
Missouri Pacific was the GP38-2s largest buyer, rostering 274 units. Southern Railway – which typical of its philosophy of the time ordered its GP38-2s with high noses – purchased 257, Penn Central acquired 223, and the Louisville & Nashville purchased 129 units. Railroads that each purchased more than 100 GP38-2 also included Frisco, Conrail, Canadian National, Canadian Pacific, and Ferrocarriles Nacionales de Mexico (NdeM). And other notable original buyers of the GP38-2 included Burlington Northern, Union Pacific, Chicago & North Western, Illinois Central, Gulf, Mobile & Ohio, Soo Line, Rock Island, Seaboard Coast Line, Southern Pacific, Clinchfield, and the Long Island Railroad. As with most long production runs, the GP38-2 was constructed with various minor production modifications and some notable customer specifications. Among the latter, in addition to Southern's hi-nose units, were units built for both Mexico's NdeM and Ferrocarril Chihuahua al Pacifico (CHP) with high noses containing steam generators for use in passenger service, and, in a nod to the future, Canadian National GP38-2s constructed with full-width noses and Canadian style four-windshield comfort cabs.
Akin to the story of EMD SD40-2 the GP38-2 was ending its production run at about the same time today's giant CSX was being formed, but nonetheless CSX became a major operator of the type by inheriting the GP38-2 fleets of predecessor roads Louisville & Nashville, Seaboard Coast Line, and Clinchfield, as well as a portion of Conrail's roster. And, just as has been the case with the SD40-2, the venerable GP38-2 carries on today as a key locomotive in CSX's modern-day locomotive fleet and, in fact, is having its life extended via the railroad's "Dash 3" rebuilding and upgrading program.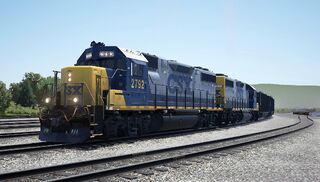 CSX Transportation inherited a large number of GP38-2 from its predecessors, primarily Conrail and the Seaboard System. The locomotive first appeared in CSX Heavy Haul in the YN3b 'Box Car' livery, currently the most recent CSX livery. In update 1.4, the YN2 'Bright Future' livery was also added. The CSX version features a cold start option and the majority of the controls are operational.
When the NEC: New York route was released, a YN3 version of the GP38-2 was included. However, the other CSX locomotives have not yet had a YN3 livery added.
Union Pacific owned 60 of the units, while the others were inherited by previous railroads that merged with them, from Chicago & North Western, Missouri Pacific, M-K-T, and Southern Pacific. It's first seen on the Peninsula Corridor in Armour Yellow, the current livery for UP.
Canadian National owns 60 GP38-2s, along with 50 GP38-2Ws. The GP38-2W is not included in Train Sim World.
Information on operating this loco can be found here. Information on operating the Alerter safety system can also be found here.
Community content is available under
CC-BY-SA
unless otherwise noted.