East Coastway is the fifth British route arriving in TSW 2020. It features the 23-mile line between Brighton and Eastbourne whilst also including the 7 mile Branch Line from Lewes to Seaford. It features both passenger services with the BR Class 377/4 and freight with the BR Class 66.
An Introduction to East Coastway
[
edit
|
edit source
]
Brighton, now a famed seaside resort, had its main railway station built between 1839 and 1840 in preparation for the arrival of the new London Brighton railway. Its expansive twin-shed roof house a number of platforms, and marks the gateway for many as the start of a summer holiday. With the opening of the full line down to Brighton, it became the first seaside town to be served by rail.
As popularity grew, so did the desire to extend railway lines along the south coast. The Brighton, Lewes and Hastings Railway was established in 1844 to build east of Brighton station, with the first destination of Lewes being reached 2 years later. The most striking feature of the line was an impressive viaduct over the valley adjacent to Brighton, which still stands to this day and offers a spectacular view of the seaside town.
The Railway was soon extended via Polegate, where a station and railway triangle was built to serve Eastbourne. A branch from the main line was also built and connected to Lewes so services from London could bypass reversing at Brighton. As all these changes were happening, stations such as Lewes and Eastbourne had to be rebuilt, re-sited and expanded until finally becoming as they are today.

Another branch would be built form just beyond Lewes and head down to Seaford. This branch was 1864 and served the channel port of Newhaven, where ferries operate shuttle services to and from Dieppe, France. Newhaven is renowned amongst train enthusiasts for its Marine station, which spent years in disarray yet still received the occasional "ghost train" until it was officially closed to be turned into an aggregate siding.
Today, services on the East Coastway are operated by Southern, with 6 trains per hour operating between Brighton and Lewes, 2 of which terminate there, another head to Seaford, and the final 2 make their way to Eastbourne. Additionally, services from London join the line at Lewes, making for additional traffic between there and Eastbourne.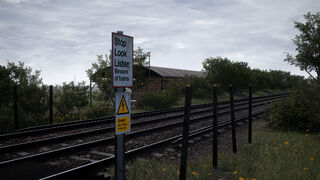 Released on 28 November. The best guess was that it was showing an area near Lewes which would suggest the route would be the East Coastway Line.
East Coastway will represent the 23-mile line between Brighton and Eastbourne via Lewes, as well as the 7-mile Seaford Branch via Newhaven.
BR Class 377/4 - Southern Rail's primary passenger EMU which operates on a third rail electric supply. Used for all types of passenger services along the East Coastway Route.
BR Class 66 - The most common type of freight locomotive in the UK used by all major operators. Used for hauling freight services on the East Coastway route.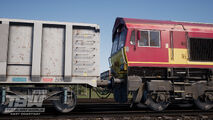 JNA Wagon - A type of freight wagon used by the operator EWS. It is used to transport Aggregates to and from the port of Newhaven on the East Coastway route.
East Coastway Introduction - Take a brief ride across the Southern East Coastway and learn what is available to be discovered.
Class 377 Introduction - Learn the basics of operating a Class 377 Electric Multiple Unit and how to recover from an emergency stop.
Class 66 Introduction - Learn the basics of driving a Class 66 Diesel Locomotive and operating manual junctions.
There are 251 different timetables scenarios for you to complete. The complete list can be found on; Service Timetable - East Coastway.
Passenger Services (BR Class 377)
[
edit
|
edit source
]
Brighton - Eastbourne (Limited stops)
Brighton - Seaford (All stops)
Brighton - Lewes (All stops)
Each of these services operates once every one hour during the day.
If you own Northern Trans-Pennine you will be able to run a special Railtour service that is able to be run by the BR Classes 31, 37, 40, 45, 47, 66. (If you have the correct DLCs)
There are two chapters for the East Coastway route. They are:
ECW: An Electric Star: Complete all training modules on East Coastway
ECW: Brighton's Best: Reach 70MPH in the Class 377
ECW: Top and Tailed: Complete East Coastway scenario 'Cutting Closure'
ECW: Shut that door!: Complete East Coastway scenario 'Loose Connection'
ECW: Going Coastal: Complete 10 services on East Coastway
ECW: Southern Servant: Complete 100 services on East Coastway
ECW: Coastal Explorer: Complete all jobs on East Coastway
ECW: Situational Awareness: Complete all scenarios on East Coastway
CL377: Passenger Purveyor: Complete 150 Passenger Boarding tasks with the Class 377
CL377: Electrostar Trekker: Operate the BR Class 377 for 377 miles
Community content is available under
CC-BY-SA
unless otherwise noted.