The Clinchfield Railroad is a route add-on for Train Sim World 2, featuring 64 miles of the Clinchfield Railroad through the Appalachian mountains set during the 1970s. Featured with the route are the F7 (A&B) and SD40 locomotives.
Route
[
]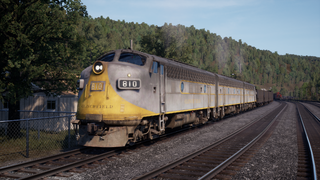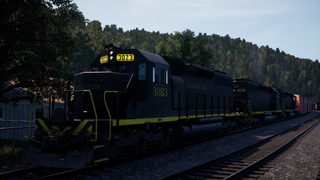 In-game the route is a 37 mile long route from Elkhorn City, Kentucky to Dante, Virginia set during the 1970s, with a further 27 miles of branch lines. The branch lines included are the 5 mile Haysi Branch, 14 mile Fremont Branch, 2 mile McClure Spur and 6 mile Nora Spur. The route is set in the Appalachian Mountains with spectacular scenery and challenging gradients. The Majority of services are focused around transport coal to and from the various mines, along with manifest services.
Locomotives
[
]
F7 - The EMD F7 was one of the most common locomotives produced in the 1940s and 1950s, used to haul both freight and passengers services by many operators across North America, including hauling coal trains for the Clinchfield Railroad. Both the F7A and F7B units are included.
SD40 - The SD40 is a 6-axle road switcher built by EMD from 1966 to 1972, and used by operators across the US, including the Clinchfield Railroad. This locomotive is the predecessor to the more common SD40-2.
Freight Wagons
[
]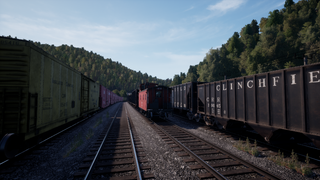 Clinchfield Railroad comes with 4 types of freight wagons along with a CRR Caboose:
Training
[
]
Clinchfield Railroad Route Introduction

- Take a brief ride along the Clinchfield Railroad and learn what is available to be discovered.

F7 Introduction

- Learn the basics of operating an F7 Diesel locomotive.

SD40 Introduction

- Learn the basics of operating an SD40 Diesel-electric locomotive.
Scenarios
[
]
The Setup

- Take control of an EMD SD40 and operate some switching duties at Dante.

Limited Power

- Operate over the Nora Spur with limited power at your disposal.

Greenbriar Branch

- Collect a coal from various industries on the Greenbriar Branch before running south on the mainline.

Fremont Ascent

- Take a full train load of coal along the Fremont Branch to be processed.

Fremont Descent

- Take a train loaded with recently processed coal to the mainline.

Mixed Power

- Take control of a southbound coal train starting at Elkhorn City.
Timetable Mode
[
]
Service Timetable: Clinchfield Railroad
Journey Mode
[
]
Route Diagram
[
]
Mastery
[
]
Tire 1
Challenges
I'm a Coal Man - Load 60 Wagons of Coal
Clinchfield Cruiser - Complete 2 Scenarios and Timetables
Reward - Clinchfield Railroad Scenery Tile (Camping)
Achievements
[
]
CRR: Conquering Clinchfield: Complete all training modules on Clinchfield Railroad
CRR: Clinchfield Completionist: Complete all scenarios on Clinchfield Railroad
CRR: Finishing the Job: Complete all route tasks on Clinchfield Railroad
CRR: Long Road Ahead: Complete 1 service on Clinchfield Railroad
CRR: Mastering the Mountains: Complete 20 services on Clinchfield Railroad
CRR: Doing What You Can: Complete Clinchfield Railroad scenario 'Limited Power'
CRR: To the Top!: Complete Clinchfield Railroad scenario 'Fremont Ascent'
CRR: Rocky Railroad: Reach Route Level 20 in Clinchfield Railroad
SD40: Burning Diesel: Operate the SD40 for 100 miles
F7: Bulldog Tamer: Operate the F7 for 100 miles
Clinchfield Railroad
Locomotives
F7 - SD40
Rolling Stock
CRR Coal Hoppers - CRR Refrigerator Car -

CRR Boxcar

-

CRR Caboose

Locations

Elkhorn City

-

Hayse

-

Clinchco

-

Caney Junction

-

McClure

-

Nora

-

Trammel

-

Dante

Operators
Clinchfield Railroad
Training

Clinchfield Railroad Route Introduction

-

F7 Introduction

-

SD40 Introduction

Scenarios

The Setup

-

Limited Power

-

Greenbriar Branch

-

Fremont Ascent

-

Fremont Descent

-

Mixed Power

Journeys
TBA