The BR Class 66 is a modern UK freight locomotive operated by most UK freight operators.
In Train Sim World, the BR Class 66 is featured in the Great Western Express route in DB Schenker and EWS liveries as well as the East Coastway Add-On in EWS livery. The locomotive has a maximum speed of 75 mph and a total of 455 of the class were produced, making it one of the most numerous locomotives in the UK.
Derived from the Class 59, the British Rail Class 66 is one of Britain's most powerful freight locomotives and can be seen virtually every corner of the country on a variety of services from rescue to heavy freight. Lovingly nicknamed 'Sheds', owing to their shed-like roof profile, they have more than proved themselves on British railways due to their impressive reliability and versatility.
In 1996, the privatisation of British Rail reached freight operations, and the previously grouped divisions such as Mainline Freight, Load-Haul and Trans-Rail were due to be sold to new private owners. Wisconsin Central Transportation Systems opted to buy a majority of the divisions in one go, quickly taking charge of no less than 93% of UK rail freight operations. After consulting with the public, the new freight operating company (FOC) was named English Welsh & Scottish.
Naturally, by taking over such a significant portion of operations, EWS inherited a lot of locomotives, many of which were, at least from their point of view, ageing and proving expensive with more frequent maintenance. EWS sought to introduce a new freight locomotive for the UK, one that would be more powerful, more reliable, and more cost effective; they turned to an already-in-service design, the Class 59, as the basis for their new fleet.
EMD designed the Class 59 in the 1980s as a UK-compatible derivative of the SD40-2, and despite a handful only being built, the private companies that owned them were impressed with their powerful performance. EWS approached EMD about ordering a new fleet, and EMD offered an upgraded iteration of the Class 59; same bodyshell, but different engines and traction motors, plus the addition of self-steering bogies to reduce wear.
EWS were impressed, and ordered 250 locomotives which were to be built in London, Ontario, Canada. Initially, the new fleet were to be classified as the BR Class 61 under TOPS, but this was later changed to Class 66. The first Class 66 arrived on UK soil in June 1998, and deliveries continued consistently until December 2001.
The Class 66 fleet proved to be a success, EWS owned such a majority of the freight market that the new locomotives could be seen practically anywhere, on everything from spoils trains to container freight, aggregate duties and engineering works. As they were the prime culprit, in many enthusiasts' eyes, for the withdrawal of countless British-built locomotives, the Class 66 became known as "The Red Death", however they were warmed to enough at least to warrant a nickname, the "Shed", owing to their shed-like roof profile. Nevertheless, the Class 66's reliability and versatility has been key to a competitive rail freight market.
Freightliner, GB Railfreight and Direct Rail Services would also go on to ordering the Class 66 in bulk from the late 1990s to 2015, by which point stringent emission regulations put a cap on the class, and the final locomotive, 66 779, was delivered in February 2016 and named 'Evening Star', sporting a nostalgic BR Green livery. Despite the last being built however, a total of 455 Class 66 locomotives have been delivered to the UK over the past 19 years; a resounding achievement for rail freight operations in the UK.
The EWS-bound Class 66 fleet was first seen of course in the Red and Yellow EWS livery, with the stylistic "Beasties" logo depicting the heads of a lion (England), dragon (Wales) and stag (Scotland). In 2007, Deutsche Bahn purchased EWS and assumed control of all operations. DB stated that they would not rebrand EWS, but that changed in 2009 when a Class 59 was unveiled with DB Schenker branding and a new bright red livery. Today, many Class 66 locomotives adorn the striking new coat of paint, and despite DB Schenker itself being rebranded as DB Cargo Rail UK in 2016, only a handful of locomotives have received a logo change so far.
Operators
Edit
DB Cargo UK
Edit
The BR Class 66 was originally only available in the DB Schenker livery, now superseded by DB Cargo UK. This version is included in the Great Western Express package.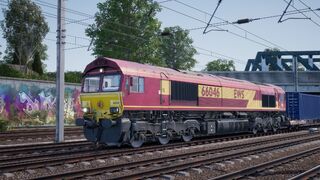 On the 24th October 2017, an EWS livery was added to the Class 66 on Great Western Express. These locomotives are operated by DB Cargo UK but have not yet been repainted into newer liveries. All class 66 services can be operated with either livery. This livery is also featured in the East Coastway add-on.
Timetable
Edit
The BR Class 66 runs a 24 hr timetable on both Great Western Express and East Coastway. Links can be found below to the appropriate timetables:
Driving the Locomotive
Edit
For information on driving the locomotive, see this page.
Community content is available under
CC-BY-SA
unless otherwise noted.