Introduction
Edit
The benchmark for modern railroad freight motive power in North America today is the 4,000+ horsepower, A.C. traction, and six axles – and it was largely the landmark General Electric AC4400CW, introduced in 1993, that helped establish that standard.
Constructed at General Electric's Erie (Pennsylvania) manufacturing facility and powered by GE's efficient and proven 16-cylinder, four-cycle FDL-series power plant (Engine), the 4,400-horsepower AC4400CW quickly became a successful railroad workhorse nationwide, with more than 2,500 units produced through 2004. Among the largest users of the AC4400CW is CSX, which operates a fleet of more than 600 of the powerful locomotives system-wide. Put to work in all types of mainline service, the big GE diesels, which weigh in at over 400,000 pounds, regularly can be seen hauling tonnage over the Alleghenies and across the famed Sand Patch Grade.
From the dawn of railroad dieselization in the 1920s and 1930s into the early 1990s, the standard design for diesel-electric locomotives relied upon direct current (D.C.) traction motors. A few experimental applications aside, initial credit for bringing A.C. traction (alternating-current traction motors and inverters) to mainline freight locomotives in North America went to Electro-Motive, which introduced its testbed A.C.-equipped SD60MAC (four units built) in 1991-1992, then followed with the production SD70MAC in 1993 (1,109 units constructed). But it was General Electric and its AC4400CW, although slightly late to the party (introduced in 1993), which came to establish A.C. drives as the new standard for heavy-duty freight locomotives across the continent. In short, the General Electric AC4400CW was a game-changer: From 1993 through 2004, over 2,500 AC4400CWs went to work on North America's railroads and most of the potent locomotives remain in front-line service today.
Although A.C. traction systems are more complex (and thus more initially expensive) than traditional D.C. locomotive technology, A.C. locomotives are highly reliable and, perhaps most importantly, offer dramatic increases in adhesion. Powered by what proved to be the final refinement of GE's venerable 7FDL16 four-cycle diesel power plant rated at 4,400-horsepower, and typically weighing in at over 400,000 pounds, General Electric's AC4400CW quickly proved to be an absolute heavy-hauling beast of a locomotive. And GE's introduction of its steerable truck design in 1996 only further enhanced the locomotive's performance and appeal.
Before being replaced in the General Electric locomotive catalog by the Tier-2 emissions- compliant the "Evolution Series" ES44AC, the GE AC4400CW was ordered by ten North American railroads, with the three largest buyers being Union Pacific (more than 1,300 units, some from Southern Pacific and Chicago & Northwestern), CSX (over 600 units), and Canadian Pacific (over 430 units). The AC4400CW's extraordinary heavy-haul abilities were illustrated by mining roads such as Canada's Cartier and Quebec, North Shore & Labrador ordering the GEs for ore-hauling duty, by Canadian Pacific putting the diesels to work in the unforgiving Canadian Rockies, and by CSX, which regularly placed the husky units in mountain coal-hauling service. CSX, which classifies its standard AC4400CW units as CW44ACs, has select units, ballasted to 432,000 pounds and equipped with special adhesion software and other features, designated as CW44AHs. GE, in turn, refers to these especially heavy and potent units as "HTE" (high-tractive effort) variants.
As perfectly suited as the AC4400CW has proven to be for the heaviest of hauling duties for long distance trains, it has likewise proven versatile and can regularly be seen powering all types of mixed and manifest tonnage as well as priority intermodal trains.
Operators
Edit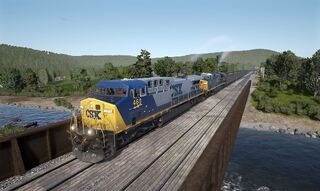 CSX Transportation
Edit
CSX operates more than 600 of the powerful locomotives in all types of mainline service, and the big GE locomotives regularly can be seen hauling tonnage over the Alleghenies and across Sand Patch Grade. Both the YN2 and YN3B liveries are featured in CSX Heavy Haul.

Operating the Locomotive
Edit
Information on operating this loco can be found here. Information on operating the Alerter safety system can also be found here.